A Residual current circuit breaker with over-current protection (RCBO), is mainly used in applications that need both over-current protection (overload and short-circuit) and ground-fault current protection.
They can detect faults and trips in time to ensure the safety of staff and equipment. RCBO is the most functional, with short circuit, overload, leakage, and three kinds of protection functions.
RCBO supports all types of residual current protection, such as AC, A, B, and AP-R. It has a variety of breaking capacities that suitable for residential and industrial applications. The rated current of TOBLE-80 RCBO up to 80A supports user-defined pole numbers. They are suitable for a single-phase or three-phase power grid. Its rated residual current is from 10 to 500 mA.
What does RCBO stand for?
RCBO is a low-voltage safety protection electrical appliance that is often installed in our common household distribution boxes to ensure body safety.
It is an effective protection for direct and indirect contact with electricity in the low-voltage power grid. The protection action current is determined by the maximum load current during the normal operation of the line.
RCBO reflects a residual current system, during normal operation, the system is almost zero residual currents. In the event of electric leakage and electric shock, the circuit will generate residual current, but this current is not enough to make the MCB and the fuse trip, and the leakage protector will trip reliably.
The width of RCBO is usually 18 mm, 36 mm (the same size as 2P RCCB RCD), or wider (the leakage protection module is separated from the MCB, but there are also integrated types of 72mm widths, such as our TOBLE-80 products).
RCBO can directly use the circuit loop to protect the loads, and it has leakage protection, short circuit and overload protection. Therefore, the system for terminal switches can be more flexible and compact.
How to wire RCBO?
There are used in single-phase (1P, 2P) lighting systems, three-phase four-wire distribution (3P, 4P) lines, or equipment that uses a working neutral wire, the neutral wire must pass through the RCBOs.
In general, RCBO's natural pole does not have overload and leakage protection functions, only the connection and disconnection function, so the live wire is not allowed to be connected to the neutral pole, please pay attention to the product description and label information when you install them in circuits.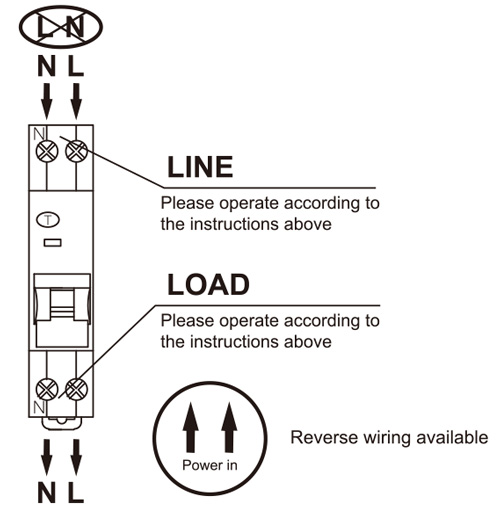 The wiring should be carried out in accordance with the power and load markings on the RCBOs, and the two cannot be reversed, unless there is a special instruction that the RCBO can be reversed. (Some RCBOs can be reversed, such as the RCBO type TOBNS, TOBN1, TOBD5 2P RCBO).
In a three-phase four-wire system or a three-phase five-wire system where single-phase and three-phase loads are mixed, the three-phase load should be balanced as much as possible.
What does our RCBO provide for you?
| | |
| --- | --- |
| Certifications | Standards Compliance |
| CE Marked | EN 61009-1 |
| SAA Certified | AS/NZS 61009.1 |
| ESV Certified | AS/NZS61009.1 |
| CB Certified | IEC 61009-1 |
| TUV Certified | AS/NZS61009.1 |
| RoHS Compliant. | |